TRUE COLOR
GEL LABELS
Now the gels will be visible in the bottle as they really are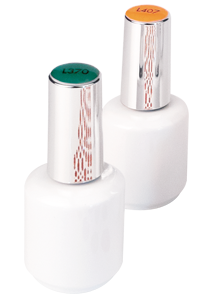 ColorDisplay presents a worldwide innovation; Its new True Color Gel Labels. From now on, you can buy these adhesive 3D labels that we paint with your real color tones.
We are aware that there is a problem related to nail gel packaging as the bottles need to be opaque, making it impossible to see the color inside. Until now, it was customary to stick a label on the bottle without showing the special effects of the gel.
We can make these colored labels to match your shades and any size and shape. Therefore, it has hundreds of applications. These are painted with real bulk and special pigments like glitters, pearls, neon, holographic effect, etc. Now the gels will be visible in the bottle as they really are.
Examples and applications:
– You can easily stick them on your gel bottle caps to show the color inside.
– Paste the labels as you pack the product, according to the actual color demands.
– Gel labels for counter displays.
– Gel labels for floorstand shelves.
– Etc.